Alison Key, DVM, CVA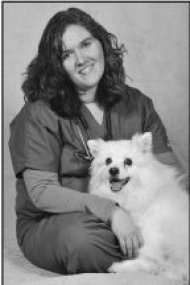 For the past decade, Alison Key has worked for Everhart Veterinary Medicine as an Associate Veterinarian and the head of the facility's Integrative Medicine.
A Maryland native, Alison's mother originally came from Brooklyn, Maryland and her father from Halethrope, before settling in Takoma Park. Even at an early age, she had a passion for science and biology—but her love of animals won out, leading to an early interest in all aspects of veterinary science. "I always knew I wanted to work with animals," she recalls. "Although I debated on going into marine biology or animal behavior, I decided I would much rather see my patients grow and help them thrive."
While attending Eleanor Roosevelt High School in Green Belt, Maryland, Alison's talents for biology truly took hold. She went on to complete her undergraduate degree in Zoology at the University of Maryland, College Park—and even began studying Kung Fu and Tai Chi! During her time with advanced studies in veterinary sciences, however, it became clear that her love for research and animals could be put to real pragmatic use. "While going to veterinary school at the Virginia Maryland Regional College of Veterinary Medicine at Virginia Tech, I was introduced to alternative modalities in veterinary medicine," she remembers. "I received certification in acupuncture for animals via the International Veterinary Acupuncture Society—and then completed Traditional Chinese Medicine Herbal, food therapy, and Chinese medical massage (aka Tui Na) course work at the Chi Institute in Reddick, Florida."
Many people are unaware how the holistic and eastern philosophies associate with Alison's outside interests can be effectively utilized for the health and well-being of animals—and that, in itself, has led to some of her most impassioned work. She explains, "After studying martial arts in undergraduate school, I was fascinated with how the body's energy could work to influence strength, balance and healing … After seeing acupuncture help my roommate's dog during a complementary modalities in veterinary school, I knew I wanted to pursue learning integrative medicine techniques. I love integrating Traditional Chinese Medicine, neutriceuticals, and food therapies, with conventional medicine to give all pets the greatest quality of life for as long as possible. And, after watching my mom suffer from dementia, I am also passionate about helping animals with palliative care and hospice during their final months."
Alison and her husband live locally with their two young daughters, all of whom are as passionate about animals and their proud mother. "Lizzie is our one-year-old nut of a cat! she explains. "She loves to knock all objects off any elevated surface especially while looking you in the eye, daring you to tell her she is anything less than the queen of the house—and Glinda is our five-year-old dog who loves to cuddle with her family and support them when they have had tough days at work and school."
With her ongoing love of science, animals and learning, Alison is currently pursuing her Master's Degree in traditional Chinese Veterinary Medicine by combining her previous coursework with a Master's Thesis through the Chi Institute.