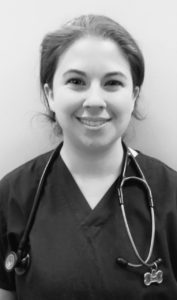 Christina Betta is a fairly new face here at Everhart Veterinary Medicine but is an important part of our Associate Veterinarian staff. A Catonsville native, Dr.Betta is familiar with the Baltimore area. Her Maryland pride is certainly not to be understated, as she also got her Bachelor's degree in animal science at the University of Maryland. Later, she completed four years of veterinarian school at the Virginia-Maryland College of Veterinary Medicine.
Dr. Betta's passion for medicine and science doesn't stop there, though. She has an interest in acupuncture, rehabilitation, and pain management—all of which is exemplified by the fact that she holds a certification in veterinary acupuncture via Curascore, which is a program that aims to teach acupuncture with a focus on the scientific perspective.
From a young age, Dr. Betta knew she wanted to be a vet due to her love of animals, though her parents didn't allow her to get her own pet until graduating from college. As she puts it, "I was always the girl at the party in the corner petting the dog rather than the social butterfly." That interest in the veterinary profession blossomed into caring about the public policy side of the profession, including lobbying in regards to student loan debt on Capitol Hill.
In her free time, Dr. Betta spends her time with her dog that she finally got after graduating from college, Piper. Piper is an Australian cattle dog mix who also has a Canine Good Citizen Award via the American Kennel Club and was also a registered therapy dog during Dr. Betta's time in vet school!
Additionally, Dr. Betta enjoys the outdoors, which was a passion developed during her time in school in Blacksburg, Virginia. When she isn't hiking or daydreaming about traveling abroad, she spends her time playing board games or rooting for her favorite sports teams, which include the Maryland Terps as well as the Baltimore Orioles and Ravens.