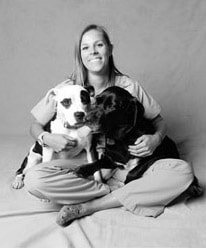 Baltimore-native, who originally hailed from Severna Park, Stephanie Menefee knew from a very young age that her love of animals would play a huge part in shaping her future. Now, as one of Everhart Veterinary Medicine's Associate Veterinarians, she is able to put that love — along with her passion and talents for science and medicine — to good use.
"I've always had a strong interest in dogs since I was a kid," Stephanie remembers. "I went to every veterinarian appointment with my family's first dog and paid really close attention during those visits. I knew I had a passion for animals, and even at that early age, I learned all the basic pet care from watching the veterinarians that I quickly admired."
Before even beginning her formal education, Stephanie took a job in her late teens as a kennel technician, turning that early experience into a position as a veterinary assistant during the next few years. With a core talent for science, she completed her undergraduate studies at the University of Maryland college park, focusing on biology and animal science—and throughout her tenure as a student, worked as a veterinary assistant, EMT and, dairy cow milker, chicken research assistant, and an intern at a wildlife refuge. With all that experience, she began her work with Everhart Veterinary Medicine while completing her doctorate studies at Ross University.
"I have an interest in orthopedics and rehabilitation," Stephanie explains. I am also a certified canine rehabilitation therapist, and I've always been interested in orthopedics and decided to become certified in rehab during vet school. It is so rewarding to give dogs and cats back their quality of life after they have an orthopedic or neurologic injury — and it's a great bonding experience for the owners, too."
Stephanie's love of animals extends to her homelife, where she is the proud own of two dogs. "Caribelle is a five-year-old coconut retriever who would prefer to spend her days at the beach — but who wouldn't?" she laughs. "I rescued her from St. Kitts when I was in veterinary school, as her owner wanted to euthanize her because she was the runt of the litter. But I love her and she is definitely the quirkiest dog I've ever met… Tinky is my two-year-old pit bull mix that I adopted from the Annapolis SPCA. She is very high energy but loves to cuddle."