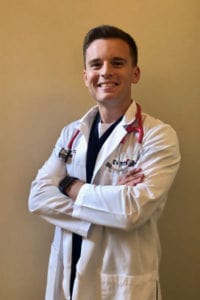 Join us in welcoming Dr. Evan Kerr to the Everhart family!!
Dr. Evan Kerr is a new resident to Maryland who was born in Harleysville, Pennsylvania. Since he was young, he has always appreciated the connection that people have with their pets. It is this connection that inspired him to pursue veterinary medicine. He is very grateful to have achieved his lifelong dream of becoming a veterinarian and honored by the trust placed in him, not only by his patients, but also by the people that love them. He looks forward to building lifelong relationships with his clients and their pets while working to provide them with the best care possible.
Dr. Kerr received his Bachelor of Science from The Ohio State University in 2017 and earned his veterinary degree from Virginia-Maryland College of Veterinary Medicine in 2021. His professional interests include ophthalmology, dentistry, internal medicine, and soft tissue surgery.
Dr. Kerr and his wife, Dr. Ellen Baumler, recently bought a house in downtown Annapolis where they live with their two pets, a chihuahua mix named Penny and a cat named Lord Commander. In his free time, he enjoys visiting local restaurants/breweries, playing sports (soccer, golf, racquetball), listening to music, and watching movies.