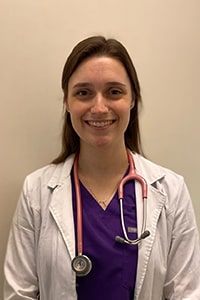 Join us in welcoming Dr. Evan Kerr to the Everhart family!!
Dr. Ellen Baumler is a Maryland native who was born and raised in the Annapolis area. Ever since she was a little girl her dream was to become a veterinarian. Dr. Baumler grew up riding horses and started her veterinary interest by working in a local small animal general practice throughout high school. She received her Bachelor of Science in Animal Sciences from the University of Maryland, College Park (go Terps!). Dr. Baumler then graduated with her veterinary degree from the Virginia-Maryland College of Veterinary Medicine in 2021. She joined the Everhart family of veterinarians in the summer of 2022.
Dr. Baumler's professional interests include dentistry and oral surgery, feline medicine, soft tissue surgery, and preventative medicine. She is most excited about establishing strong relationships with her clients and advising them throughout all stages of their pet's lives. She especially values providing compassionate, peaceful, and individualized end-of-life care for each of her patients and their families when the time comes.
Dr. Baumler and her husband, Dr. Evan Kerr (also an Everhart veterinarian), live together in downtown Annapolis with their three animals; a 14 year-old Chihuahua mix named Penny, a 5-year-old cat named Lord Commander and a 6-month-old new kitten named Luna Blu. Outside of work, she enjoys reading, running, visiting local restaurants and wineries/breweries, watching good television, and spending quality time with her husband, animals, and family.