The dental health of your dog is an essential aspect of their overall health. Not only will healthy teeth allow them to eat and play comfortably, but they are also indicative of a clean mouth with minimal risk of infection. However, cleaning your dog's teeth do not need to be painful or complicated! There are so many easy ways to keep their teeth clean, from toys to quick and easy professional cleaning. If you are looking to improve your dog's dental hygiene, consider these four fun and easy ways to keep their teeth clean throughout the year.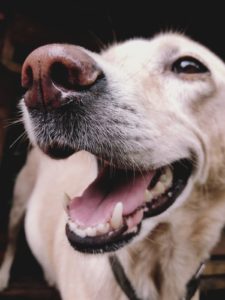 Traditional Brushing with a Toothbrush
While some dogs may not want their teeth brushed, many dogs are fine with traditional brushing using a soft toothbrush. There are a variety of dog-friendly toothbrushes and kinds of toothpaste that are perfect for weekly or bi-weekly brushing. Pick a flavor of toothpaste that your dog will love and make time for a few brushings each month.
Let Your Dog Enjoy a Dental Treat
If your dog is not happy about using a toothbrush, consider using dog dental treats instead! By simply chewing and enjoying a dog dental treat, your dog can have fun and clean their teeth at the same time. Dog dental treats can make the process of cleaning your dog's teeth easy and enjoyable for your dog.
Use Dog Dental Wipes
Although dog dental wipes may not be able to clean every nook and cranny of your dog's teeth, they are convenient for wiping away plaque and giving your dog's teeth a decent cleaning. Dental wipes are especially ideal for dogs who may allow you to clean their teeth but are not patient enough for a full brushing.
Professional Dental Cleanings
Professional dental cleanings are the best solution for thoroughly cleaning your dog's teeth, as preventative care helps to spot dental issues before more significant health risks arise. With professional, preventative cleanings, a veterinarian can inspect your dog's gums for any sign of infection or additional health issues. Keep your dog healthy and happy with clean teeth in 2019!
Trust the Care of Your Pet to the Professionals at Everhart Veterinary Medicine!
At Everhart Veterinary Medicine, our veterinary professionals strive to provide your pet with the very best of veterinary care. We believe that the best care for your pet should be provided by experienced, compassionate, and knowledgeable veterinary professionals. With two Maryland locations in both Baltimore and Pasadena, we are always ready to welcome your pet as a new patient! Give us a call today at 410-355-3131 or 410-793-7670! For more information, as well as updates on veterinary news and topics, visit us on Facebook, Twitter, Google+, LinkedIn, or Pinterest!