While some dogs may love a day spent in the snow, certain smaller and more sensitive breeds may have a difficult time getting outside on a chilly winter day. No matter how big or small your dog may be, physical activity is an important aspect of their health throughout the year. With this, it is essential to ensure that your dog stays physically active throughout the season to avoid depression and health complications in the future. Even if your dog prefers to spend a minimal amount of time outside on frigid and snowy days, there are plenty of ways to keep your dog active and healthy in the upcoming weeks of winter.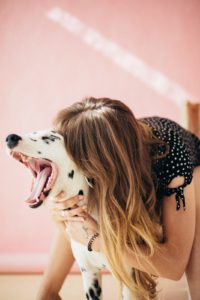 Start a Game of Indoor Fetch
You and your dog do not always have to play outside to have fun and get moving! Instead, grab a soft, stuffed toy and play a game of indoor fetch. You don't need to throw the toy very far for your dog to have fun catching, chasing, and running with their favorite toy in the living room.
Make a Scavenger Hunt of Meal Time
To get your dog's activity level up for the day, consider making a game out of mealtime. When dinner or lunchtime rolls around for your dog, hide the food in an unusual location for an active scavenger hunt. Not only will this game get them up and moving throughout the house, but it will also reward them with the perfect prize of a great meal.
Play Hide-and-Seek
While it may sound silly, a game of hide-and-seek with your dog can be the perfect way to get them moving throughout the house in a fun and healthy way. Hide from your dog in a safe and accessible place where they can have fun searching for you while you call them. With this silly way to get moving, both you and your dog can have some fun on a snow day!
Organize a Fun, Puppy Playdate
For especially social dogs, a puppy playdate is a perfect way to get them moving on a chilly winter day. Invite a familiar puppy friend over for a day of fun at home, complete with toys, treats, and games for them to enjoy together.
Trust the Care of Your Pet to the Professionals at Everhart Veterinary Medicine!
At Everhart Veterinary Medicine, our veterinary professionals strive to provide your pet with the very best of veterinary care. We believe that the best care for your pet should be provided by experienced, compassionate, and knowledgeable veterinary professionals. With two Maryland locations in both Baltimore and Pasadena, we are always ready to welcome your pet as a new patient! Give us a call today at 410-355-3131 or 410-793-7670! For more information, as well as updates on veterinary news and topics, visit us on Facebook, Twitter, Google+, LinkedIn, or Pinterest!