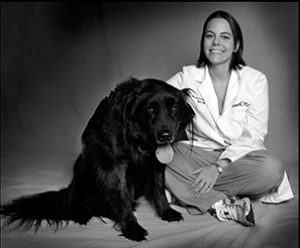 Another of Everhart Veterinary Medicine's esteemed veterinarians, Marjorie Farris joined the prestigious clinic in 2012.
Originally from Atlanta, Georgia, Margie initially left home to attain her undergraduate degree from the University of Iowa, before returning home and earning a degree in Veterinary Studies from the University of Georgia.  As she explains, "My brother, a Georgetown graduate, recommended the D.C. area to me for the combination of cold and warm with good outdoor activities in a city setting.
"Throughout my life, I never wanted to be anything else but a veterinarian," she recalls. "I enjoy the challenge of diagnosing cases and the resilience and love that animals have for their families. I also try to focus on preventative care medicine to keep pets happy and healthy for as long as possible."
Margie shares her home with her two children, cats named Bailey and Athena, and a dog Wally.