Robert Goodman, DVM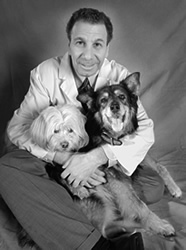 Everhart Veterinary Medicine's esteemed Chief of Staff, Robert Goodman, has spent decades using his educational studies and extensive background caring for the animals that he loved, even as a child.
Originally from Ohio, Dr. Goodman came to Maryland to complete his education at the Johns Hopkins University School of Medicine, studying Comparative Pathology. He had initially pursued a course of study in his native Ohio as a Pre-Med / Pre-Veterinary student, following with the attainment of his doctorate at The Ohio State University College of Veterinary Medicine in Columbus, Ohio, before changing his focus to that of clinical medicine. It was with this switch that he was able to apply his abilities in the fields of medicine and science to his earliest passion—caring for animals.
"I was originally interested in Pathology, which is the study of disease processes," he recalls, "but after entering clinical veterinary medicine, I was determined that I had a great interest and aptitude for surgery, and have been pursing multiple disciplines within that field."
Having joined Everhart Veterinary Medicine in 1982, Dr. Goodman has been able to use his compassion and years of experience to take part in numerous other related, and worthy, causes. From 2001 through 2004, he served as President of the Maryland Veterinary medical Association Board of Directors, and currently takes part the Veterinary Study Group—a nationally recognized leader in veterinary education and management—which has aided in shaping Everhart Veterinary Medicine's modern, successful template as a state leader in animal healthcare and well-being.
Dr. Goodman's tenure at Everhart Veterinary Medicine has not only been to the great benefit of the facility's many clients and their pets, but also in his own personal life. "I'm married to a loving a supportive wife who I met when she was a client in the late 1980s," he proudly recalls. "She loves animals more than I ever possibly imagine and, together, we have two rescue dogs and three cats … We would have even more if possible!"