A new cat is a furry, fun addition to your family. However there a few crucial steps to follow to ensure that your new pet is healthy and safe in your home. Vaccinations are an essential measure of protecting your cat from serious illnesses that can pose threats to their health over time. Even if your cat will be living indoors, vaccinating your new cat is crucial to maintaining their health throughout their life. Consider these three fundamental reasons to protect your new cat with vaccinations.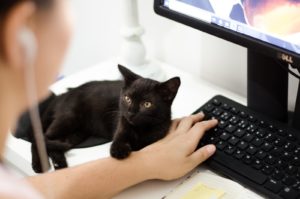 Illnesses Spread by New or Visiting Pets in Your Home
While introducing your new cat to other pets in your home may be unavoidable, your cat may be susceptible to illnesses spread in their interactions with other animals. For this reason, vaccinating your new cat is crucial for ensuring that they are protected before any introduction to your current pets or new animals in your home. This step will help to protect your cat from getting sick after interacting with another animal, mainly if they are young with vulnerable immune systems.
Viruses Introduced by You or Your Family
Although you and your cat may not share colds directly, there are many parasites and dangerous viruses that can be introduced to your cat via your shoes, bags, or other objects that you bring home. Vaccinations can help to protect your cat from these risky viruses that you may inadvertently spread to them as they are living in your house. Much like you and your family, germs on your hands and shoes can quickly spread to your pets.
Accidental Time Spent Outdoors
Should your cat escape or spend a short period outside, it should be protected from dangerous germs and parasites that it could encounter outdoors. Vaccinating your cat after they spend time outdoors will be less effective and will not be able to protect them in time. Protect your cat from diseases that it may come into contact with the outside by vaccinating them before the issue occurs.
Trust the Care of Your Pet to the Professionals at Everhart Veterinary Medicine!
At Everhart Veterinary Medicine, our veterinary professionals strive to provide your pet with the very best of veterinary care. We believe that the best care for your pet should be provided by experienced, compassionate, and knowledgeable veterinary professionals. With two Maryland locations in both Baltimore and Pasadena, we are always ready to welcome your pet as a new patient! Give us a call today at 410-355-3131 or 410-793-7670! For more information, as well as updates on veterinary news and topics, visit us on Facebook, Twitter, Google+, LinkedIn, or Pinterest!